Top 7 ladies Kurtis for traveling.
By jeeten kushwaha
&nbsp in Women's Interest | Published 2020-02-10 04:36:33 | 10 Reads | Unrated
Summary
This article takes a look at all the kurti options a woman may choose from while packing for an exciting rad trip.
Full Content
A vacation is a call for much-needed relaxation especially due to the presence of high-stress situations that every human being is due to experience at any time of their lives.
For a woman traveling and getting away from this scenario, the most important fact is to have her wardrobe in order. A vital must-have for every adventurous woman is the kurti, which is a tunic that bears cultural significance to all Indians.
7 Kurti styles that every woman should own.
1. Short kurtis:
ttps://cdn.shopify.com/s/files/1/0039/3288/1009/products/Long_Sleeves_Stylized_Design_Embroidered_White_Short_Kurti_Top_1200x1200.jpg?v=1571726995" style="height:458px; width:375px" />
When it comes to comfort and activity, the short kurti is unbeatable. Ending just at the waist, it is easy to wear with shorts, jeans, skirts, and even activewear such as track pants and leggings.
It has all the fits to help you along the road even if you need to stop over at the side of the road and take some scenic selfies, the short kurti is a worthy companion that can be found in any range of wholesale readymade kurtis with designs such as checks, stripes, floral, or plain.
2. Anarkali kurtis:
The anarkali is a sophisticated, complex piece that should be packed along for the road trip in case you find a fancy restaurant and need a last-minute, quick and easy outfit to throw on. Adored for its floor-length appearance, this style is one that will make you be remembered by everyone else.
3. Cold-shoulder kurtis:
Kurtis come in the widest range of styles that come and go, one style that will not be going anywhere anytime soon is the cold-shoulder style as it has swept the fashion world off its feet, this style is not just worn by young girls, but has also become very popular among older women.
It offers comfort as well as the highest level of fashion without going too out there in terms of technique. Packing one will make sure that you are all set to take some breathtaking pictures to look back on.
4. C-cut kurtis:
The c-cut kurti holds a feminine shape and is usually flowy due to the rounded bottom hemlines. Pairing this with a brightly colored fabric can make for an easy-going all-day wear to help alleviate some of that traveling fatigue.
You can let your legs free and opt to wear some short shorts and not some tight strangulating bottom wear.
6. Printed kurtis:
This is one item that will be in every backpack. Printed kurtis are a stylish garment that makes use of digitally printed designs that are chosen off a gallery on a computer.
Apart from easily being stylish, they are usually made from cotton or cotton deriving fabric making them a prime choice for a summer trip where keeping cool is the main priority.
Cotton acts as a natural air conditioning fabric and another advantage is that it dries fast when wet. ( this is great news if you have limited clothes and need to wash and wear clothes)
7. Frock style kurti: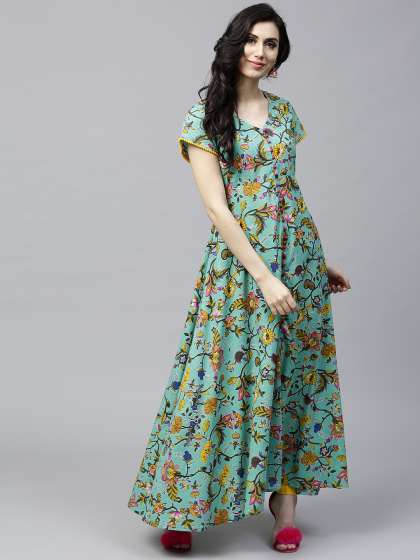 Frocks are common clothing for many girls, the frock style has now been applied to the kurti category as it offers an all rounding design that can be used by women for any occasion.
To make sure you are prepared for any surprise celebration, packing one of these saviors is a wise idea.
Comments
Login to comment